On the last night of Ma's trip to New York a month ago, we were making her bed in my small studio apartment once again.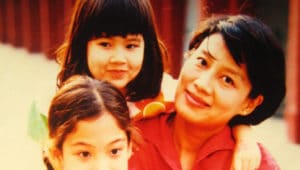 As we lay a sheet over the futon mattress, it hit me: how many times had we done this before? Growing up, my family moved across China and the United States every one to three years. By the time I left for college, we had lived in seven different cities. Moving so often required an ability to adapt to unfamiliar situations, and a willingness to build a "home" quickly.
While every move came with heartbreak, it also came with a sense of endless potential. To cope with the cycles of hello's and goodbye's, I found comfort in small, daily rituals. One of these was the practice of making a bed with Ma when visiting relatives overseas, or during our first few nights in a new city. While seemingly mundane, this was a way for me to build a sense of safety in a foreign space.
I've lost count of how many times we've layered blankets over mattress pads, but I can still hear Ma's voice instructing me on how to make the perfect bed to ensure a good night's sleep.
Today, I want her to know that with practice, I've mastered the art—and I hope she'd be proud.
Ma's List of What You'll Need:
1 futon mattress (if available), or mattress pad
1 sheet
2 blankets
2 pillows
1 visitor or loved one
Ma's Manifesto:
   

Drag the futon mattress from its wooden frame and onto the floor. To avoid pulling a muscle, ask for some help.

   

Unfold the sheet (the one you inherited from your Abu/Grandma/外婆) and lay it over the futon mattress. Be sure to wash the sheet beforehand, especially if it is only used once a year when Ma visits from China.

   

Tuck the excess fabric of the sheet under the mattress. Ensure all creases are smoothed out.

   

Ask your guest if he/she will be warm enough with just one blanket, or if she prefers to use two. Whatever she says, give her two anyways.

   

Place a pillow on the futon, but make sure to give them an extra (in case they like to hug one when they sleep).
*Pro tip: (A note to self, really)
Insist that Ma sleeps in your bed instead of the futon.  She will stubbornly decline but ask again.
Yet in recent years, I've noticed that something has shifted. Instead of being the one that gets tucked into bed with a goodnight kiss, I am now setting up a space for Ma to rest before her journey back home to Shanghai. I become overwhelmed by how this ritual suddenly feelings nurturing, safe, rootless and fleeting all at once. Each time Ma comes to visit, I struggle to confront the fact that her stay is temporary, and without anything, I go to sleep with a lump in my throat.
Last summer, we woke up super early before Ma's flight. We folded the sheets, stored the blankets, and lifted the heavy futon mattress back onto its wooden frame. After dropping Ma off at the bus, I returned home. Space had rushed back into the cramped studio apartment, and I found myself trying to fill it.
With the pieces of the makeshift bed back in their respective pieces, I feel a gnawing sense of homesickness flood over me. Nothing can quite fill the void in the apartment or in the pit of my stomach. I miss Ma.
Comments
comments